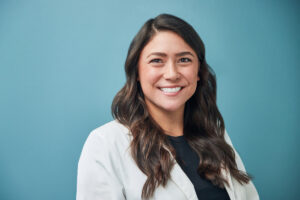 Dr. Carissa Villaflor Beaudreau was born and raised in Oklahoma City and graduated from Heritage Hall High School before attending Newman University on both athletic and academic scholarships. She graduated from Newman with honors in 2015 with a Bachelor of Science in Biology with a concentration in pre-optometry. During her years at Newman, she earned athletic awards, worked as a resident assistant, and was a community leader scholar.
Dr. Beaudreau earned her Doctor of Optometry from the University of the Incarnate Word Rosenberg School of Optometry in 2020 in San Antonio, Texas. Dr. Beaudreau is proud to have completed her extensive optometric rotations at the Robert J. Dole VA in Wichita, KS, and the Lewiston VA in Maine. Being able to serve veterans is one of Dr. Beaudreau's greatest honors. At the VA hospitals, Dr. Beaudreau gained valuable experience in the management of patients with glaucoma, diabetic eye disease, age-related macular degeneration, and co-management of cataract surgery. Dr. Beaudreau is certified in anterior segment laser procedures, other minor procedures, and advanced optometric vision care.
During her time at Rosenberg School of Optometry, Dr. Beaudreau performed extensive research in glaucoma. Her research in Selective Laser Trabeculoplasty (SLT) and Laser Peripheral Iridotomy (LPI) has been published in Investigative Ophthalmology & Visual Science. Dr. Beaudreau has presented research at the Association for Research in Vision and Ophthalmology (ARVO) and the American Academy of Optometry.  Dr. Beaudreau is a member of the Oklahoma Association of Optometric Physicians, the American Academy of Optometry, and the American Optometric Association.
Outside of the office, Dr. Beaudreau enjoys spending time with her Canadian husband, Mitchell, and their two dogs, Lucy and Milo. She likes to play tennis with her family and competitively in USTA league. Dr. Beaudreau enjoys traveling, going to concerts, and supporting the OKC Thunder!