Laser Cataract Surgery represents a revolutionary advancement in cataract surgery that significantly improves the precision of several of the most critical steps in cataract surgery.
We're excited to announce our new LENSAR® Laser System! Watch the video below.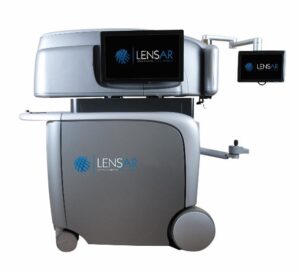 This state-of-the-art laser creates a 3-D map of your eye and automates the incisions and disintegration of your cataract. It customizes the procedure for the unique biometrics of your eye, as well as helps address astigmatism. We've found this new laser has shortened the time of surgery and adds extra safety.
Our team wants to deliver the best visual outcomes for our patients, so the investment in the LENSAR only made sense to us.
Want to learn more about laser cataract surgery? Fill out this form to be contacted by one of our laser cataract patient counselors, or call us at 405-943-4413 and press option 1.
Check out this video to see the difference between manual cataract surgery and laser cataract surgery.