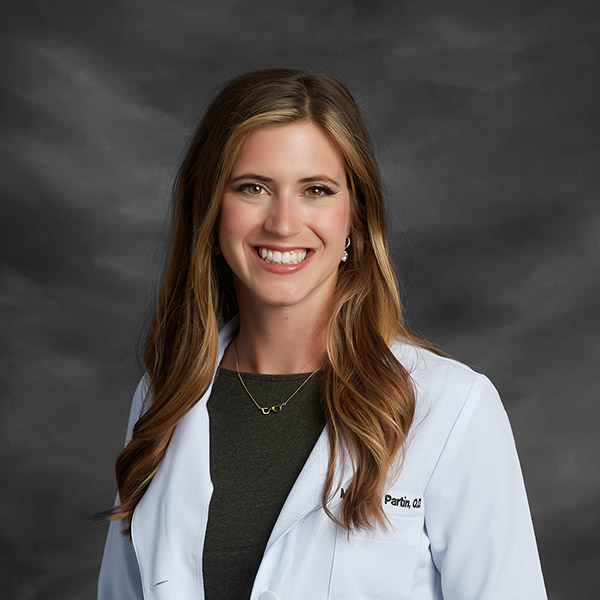 An Oklahoma native, Dr. Myranda Partin received her undergraduate from the University of Oklahoma with a major in Multidisciplinary Studies of Science and a minor in non-profits. She completed her doctorate at Northeastern State University Oklahoma College of Optometry in Tahlequah, Oklahoma. Dr. Partin is certified in anterior segment laser procedures, other minor procedures, and advanced optometric vision care. While in school Dr. Partin graduated Beta Sigma Kappa, received the "Outstanding Clinician Award", featured an article in PCON (Primary Care Optometry News), and performed research.
Dr. Partin completed an extensive externship with Oklahoma Medical Eye Group followed by her residency in ocular disease management at EyeCare Associates of South Tulsa under the guidance of board-certified ophthalmologists and residency-trained optometrists. Dr. Partin gained valuable experience in the management of patients with glaucoma, diabetic eye disease, age-related macular degeneration, and surgical co-management of cataract and LASIK patients. She currently serves on committee with the Oklahoma Association of Optometric Physicians and is a member of the American Optometric Association.
Dr. Partin enjoys serving patients less fortunate. She has worked with Bedlam Clinics, the Special Olympics, and participated in separate medical mission trips to Honduras, Belize, and Guyana. In her free time she enjoys lots of coffee and running, having completed the Boston Marathon in 2015. She is married to Dr. Travis Partin who practices optometry with his father in Mustang, Oklahoma where the two currently reside along with their new baby girl.